ASUS has announced their Mixed Reality Headset for Windows 10, and it's similar to the Dell Visor. It features a 3K resolution (1440×1440 per eye) with a 90Hz Refresh Rate, which is better than the Oculus Rift, HTC Vive and PlayStation VR.
Mixed Reality?
Microsoft insists to call their VR Technology 'Mixed Reality'. The apps are quite different from usual apps for the Oculus Rift and HTC Vive. Upon opening it, there will be a portal and home area in a Cliff House, in which you are able to access games and apps. It acts a lot like a virtual living room. Just like HoloLens, you can pin apps to walls. For watching movies, TV series, YouTube you can go to the cinema room. There's even an option of running a virtual version of your actual desktop, and control it using the headset. Quite amazing!
(Picture Credits :- THE VERGE and ASUS)
Price
The ASUS Mixed Reality Headset will cost €449/$535 USD. With current import prices on the Oculus Rift (which has similar price), pricing in India can be expected somewhere around ₹50,000.
Features & Specifications
Back to the headset. Here are the specifications and few features of the headset.
1. 3K Resolution
The ASUS Mixed Reality Headset has a 3K 2880×1440 Resolution, which is 1440×1440 per eye. The HTC Vive & Oculus Rift have a resolution of 2160×1200 or 1080×1200 per eye which is lower.
2. 90Hz Refresh Rate
Like other VR Headset, the ASUS Mixed Reality Headset has a 90Hz Refresh Rate on its display. This is more than enough and other VR Headsets also have the same refresh rate (PlayStation VR uses a technology to reproject 60Hz to 120Hz though)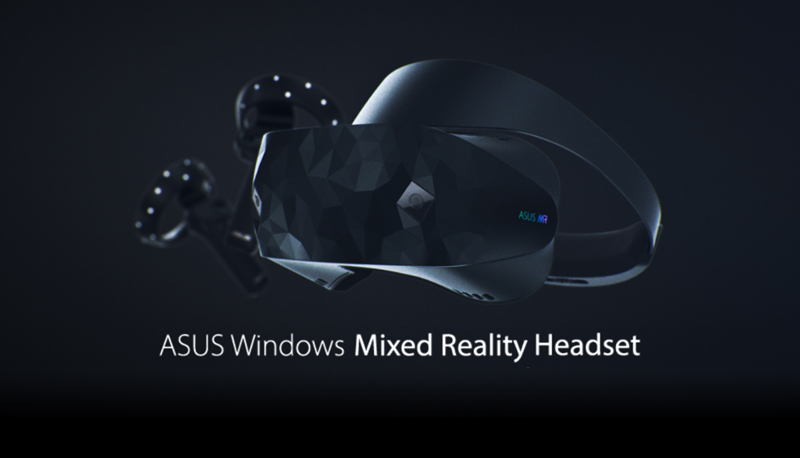 3. 3D Futuristic Design
ASUS has implemented a beatiful, futuristic design pattern on the ASUS Mixed Reality Headset. It has a pattern of hundreds of 3D polygons resulting in a modern, revolutionary new design.
4. Convenient Flip Design
Another innovative feature of the ASUS Mixed Reality Headset is the convenient flip design. With this the user can easily switch from virtual to real realities instantly.
4. Plug and Play 10 minute setup
Yes, you heard that right. The ASUS Mixed Reality Headset has a very easy setup. All you have to do is to plug in the USB and HDMI Connectors into your computer, and you're set.
5. High Comfort and Lightweight
The ASUS Mixed Reality Headset has a weight of less than 400g, and a balanced crow design. This offers way higher levels of comfort than the PSVR (610g weight), HTC Vive and Oculus Rift (470g weight for both)
Conclusion
In conclusion, if Mixed Reality is optimized right, then the headset will be a huge success. It has a better resolution than HTC Vive and Oculus Rift, a better design, way higher comfort, and a very easy 10 minute setup! What matters most though is the optimization. Recently I got the chance to use a PSVR which has a measly 1080p display, but the experience was absolutely amazing. I did not expect such good 3D depth! The game was flawless and fun to play. I can only imagine how the ASUS Mixed Reality Headset would be like – I am eagerly waiting for it, and so are many virtual reality fans, or should I say mixed reality now?