Rahul Gandhi has promised to bring an "Earth quake" in the Parliament if he speaks on notes ban and today in Lok Sabha he claimed that he has some explosive information on "Personal Corruption" of the PM Narendra Modi and said "will explode his balloon , but not allowed to speak in the House."
He says "Read my lips , the PM Modi is terrified by the information I have . It is about personal corruption of Narendra Modi and we have detailed information on it."
Vice President of Congress was speaking to the media person while he was being flanked by the leaders of the 16 Opposition Parties present in the Parliament.
He added "my information is a very personal information on Narendra Modi ji which I want to put it out in public via Lok Sabha. I want to divulge the details there as an elected member of the Parliament."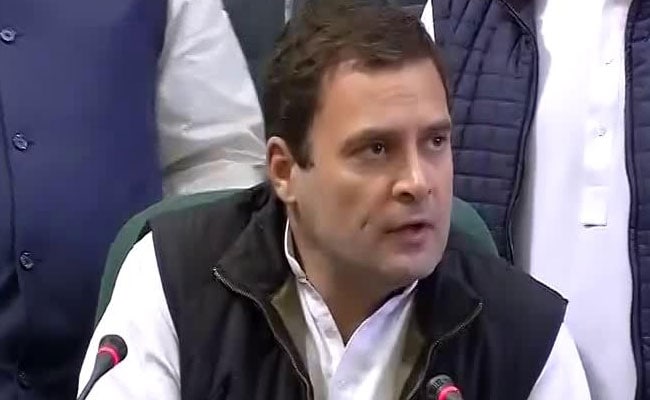 Rahul Gandhi Speaking To Media Outside House Amidst Flanking By Opposition.
"My information is personal information on Narendra Modiji, which I want to put out in the Lok Sabha. I want to say it there as an elected member of parliament," he added.
But the BJP members shot back at the Gandhi scion saying "Rahul Gandhi is making a joke out of himself. The allegation is being made out of sheer desperation and he must understand what he is upto and must apologize to the nation for his behaviour."
Rahul Gandhi said that he was speaking on behalf of all the Opposition Parties and demanded that PM Narendra Modi must stop talking alibis and allow the other elected party members an opportunity to put their views and points across. As he said "I want to speak but they are not allowing me to say a word , they know what an earthquake it will create if I say even a small quarter of the information I have got against PM Narendra Modi ji."
The ruling government says that PM Modi is ready to speak about his demonetisation scheme in the House but with just 3 days left of the winter session to come to an end and seeing the condition today where the house was adjourned minutes after it was started clearly indicates that BJP has no solid information to seal the lips of the Opposition.