Padmavati Actress Deepika Padukone's Maternal Grandfather died on 30 January, 2017. But Deepika did not make her personal loss public and preferred to be with her family to face this tragedy alone as per the reports by Mumbai Mirror.
Deepika Padukone who made her Hollywood debut with Vin Diesel's xXx : Return Of Xander Cage is currently with her family. Its reported that Deepika Padukone was comforting her mother as much as possible during her grandfather's funeral.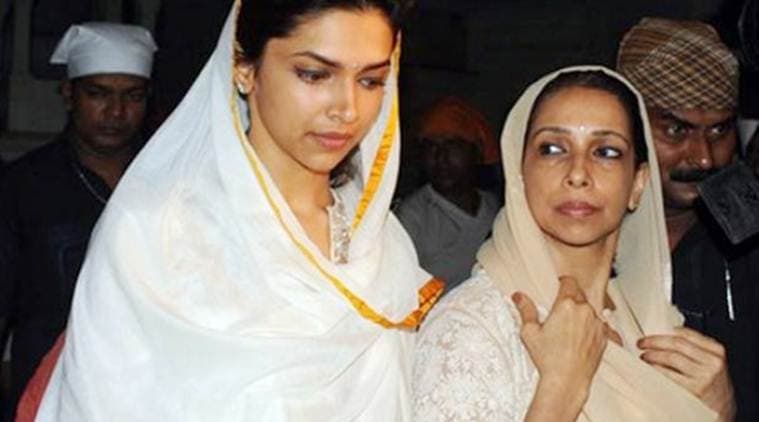 Deepika Padukone & Her Mother At Her Grandfather's Funeral On January 30, 2017.

Deepika Padukone during the media interaction earlier said that, "I want to spend more time with my grandparents. So I celebrated my New Year with extended family including my grandparents. As today (January 1, 2017) is my grandfather's 95th birthday. Every year I used to celebrate my New Year abroad. But this time I want to make it worth remembering by celebrating it with my family, and especially with my grandfather."
Deepika Padukone is reportedly taking a short break from the shoot of Sanjay Leela Bhansali's Padmavati. When Deepika Padukone starring in and as Padmavati was asked about Sanjay Leela Bhansali's Jaipur Incident she said, "I'm deeply saddened and disheartened by this. There is no distortion of history in our film Padmavati. Our sole endeavour is and has always been to share the story of this courageous and powerful women in its purest form!"
In a recent interview with Filmfare, Deepika Padukone spoke about how Vin Diesel's xXx came at a that stage of career when she was looking for a challenging role. But at present, we send all our heartfelt condolences to Deepika Padukone and her extended family!