A  9-year girl old girl from  Guwahati refused to drink the packed juice as the package of juice pack had the picture of a boy. According to her, she felt that the drink was only meant for boys as there was no photo or picture of a girl on tetra pack of  Dabur juice.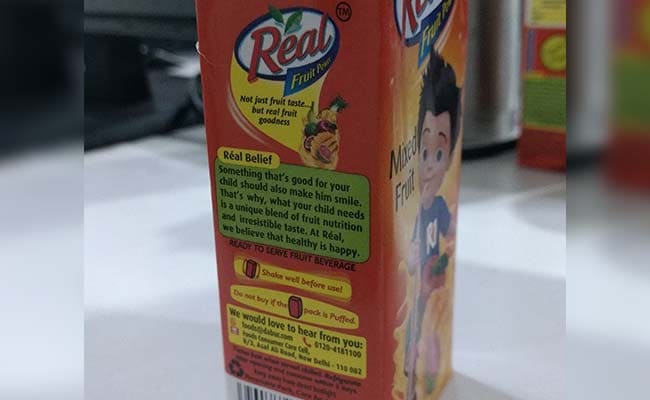 The doubt came in her mind after reading the description of Packet that said, "Something that is good for your child should also make him smile."  After reading this, she innocently asked her father  Mriganka K Majumdar that wether the product was only made for boys.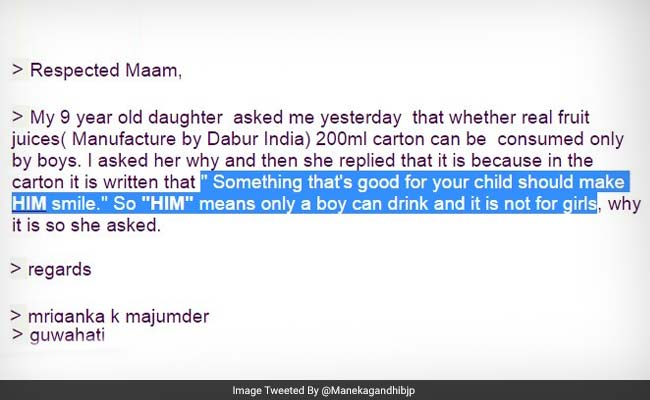 Mriganka K Majumdar, the father of the girl could not reply to the question asked and felt that the carton should also contain an image of the girl. Thus he decided to write an email to the company askingto apologise for gender discrimination but did not receive any reply from the company.Then he wrote to Women and Child Development Minister Maneka Gandhi to investigate the matter.
Majumder told, "I know it's a small issue but the message that boys are getting more preference is disturbing. Prime Minister Narendra Modi talks of promoting Beti Bachao Beti Badhao and saving the girl child but the message gets diluted by such instances."
Then the action was taken by  Maneka Gandhi and the Dabur company decided to change the packing of the juice carton.Though the company also said that they had no intention promoting gender discrimination neither they support these things.
Let me reassure you that the use of the term 'him' on the pack is not gender-specific and was used in a more general sense to connote children and not any specific gender," an official statement issued by Dabur read.
The company also said in defence that the  picture of a happy family of four which also includes a girl child is present in the carton of their   Real Fruit Power packed products. Intrestingly the picture is present in only 1-litre pack of real juice while small pack  200 ml contains only the image of a boy in school uniform.